Popups can be annoying and most people hate it. But it can give you one of the best conversation rates out there. That's why they exist even though we have other methods such as landing pages.
According to Sumo.com, the average conversion rate for a popup is about 3.09%. They even have their own popup as I was conducting research on their page.
Sumo.com also stated that the top 10% highest-performing pop-ups averaged around 9.28% conversion rate. And that's based on someone seeing the popup and taking action.
And few websites saw conversion rates that reached as high as 50%, now that is insane!
Based on that information alone, popups are certainly not dead and it's performing better than most landing pages.
But I'm not in the business to provide you with just the pros. I'm also going to state the cons as well.
According to Hubspot, 73% of consumers dislike online popups. However, it does depend on what kind of popup you are placing on your website.
Like any other internet marketing method or business, some succeeds and some fails. So it's up to you to determine whether you should include popups or not on your website.
It definitely does hurt to test it out and survey your audience. If they don't like it and you're not seeing any positive results, you can always remove it.
Running a business is all about trial and error. And that's why I decided to create this list of the best WordPress popup plugin for your website. Without further ado, let's get started!
WordPress Popup Plugins That I Recommend You Check Out
#1. Popups By OptinMonster
For those who don't know, OptinMonster is a powerful lead generation software. According to their website, there are over 700,000 websites who are using OptinMonster.
In addition to their standard lead generation software, they also have a WordPress popup plugin called, Popups.
What makes Popups by OptinMonster stand out is that it comes in the form of a drag and drop builder. So even if you have no technical skills, you can create your popups relatively easy.
With this plugin, you can create campaigns like:
In-line forms (forms that get displayed within your content)
Slide-in forms (forms that slide in when your visitor scrolls through your content)
Floating headers (a bar that gets shown on the top of your website)
Footer bars (a bar that gets shown on the bottom of your website)
Mobile-specific forms (forms designed specifically for mobile devices to maximize conversion)
Welcome gates (a form that covers the full screen of your computer)
Everyone is unique and OptinMonster recognizes that, so it comes with advanced targeting based on personalized behavior for each of your visitors.
With advanced targeting, you can expect the following:
Popups will display at an optimal time to increase conversions.
It will also show up if a visitor is planning to exit your website.
According to OptinMonster, they claim that their plugin has helped their customers increase conversion by as much as 600%.
Now I don't know how true that statement really is, but it's definitely worth a try! After all, they wouldn't be as popular as they are if there isn't some truth to their statements.
If you decide to use Popups by OptinMonster, do know that you can integrate your email marketing software to build your email list (learn how to build an email list with AWeber).
#2. Layered Popups
Layered Popups is another popular plugin that lets you create popups that are layered. If you take a look at their website, you'll get a pretty good idea of how it looks.
With multiple layers, you can better attract and retain your visitors which drives up conversion rates. So if you're tired of boring popups that don't look good, Layered Popups will blow your mind.
As awesome as it looks, Layered Popups has a visual editor which makes it easy for anyone with no technical skills to create and make changes to their popups.
With this plugin, you can create campaigns like:
Scrolling (When someone scrolls through your content, a popup will appear).
Exit intent (If someone is intentionally leaving your website, it will stop them with a popup).
Once per session (Your popups will only appear once per session to avoid annoying your visitors).
Once every specified number of days (You can set how many days until someone sees the popup again).
Every Visit (You can also enable your popups to appear every time someone visits your website).
Idle Pages (If your visitor idles, the popup will appear to capture their attention).
and a few more minor things.
Even though popups can be annoying, Layered Popups is designed, so you can alter how frequent a visitor sees a popup which reduces the chance of annoying a visitor.
Like most popup plugins, Layered Popups is compatible with most major email marketing service providers.
And it's okay if you're not the greatest visual designer. Layered Popups comes with more than 150 templates for you to choose.
#3. Elementor Pro
Elementor Pro is a great popup builder that I've personally used in the past. It comes with its own set of templates that you can build from or you can build one from the ground up.
With Elementor Pro, you can create popups for various reasons such as capturing leads, making announcements, content locking, etc.
What I really like about Elementor Pro is that it allows you to use advanced targeting options.
For example, you can control popups based on the device a user is browsing from or trigger a popup after a specified number of page views and time.
To use Elementor Pro, you'll have to pay for their subscription which starts at $49.00 per year which is a bargain! Considering how visually appealing the popups are.
#4. Ninja Popups
Ninja Popups is one of the most popular WordPress popup plugins in the market. Normally, I don't care about popularity, but when something is popular, it's usually because it's good.
If you decide to use Ninja Popups, you'll find yourself with a ton of features and it's completely mobile or desktop friendly right out of the box. There's no need to learn how to code using this plugin.
Now I'm a firm believer to have everything on your website to match and apparently Ninja Popups thinks so too. That's why they allow you to customize the design of your popups to match your website.
A notable feature that Ninja Popups comes with is A/B testing. You can use this to compare different variations of your popups to see which one yields the highest conversion.
For $26.00, Ninja Popups is easily one of the most bangs for your bucks out there in the market of popup plugins.
#5. ConvertPlus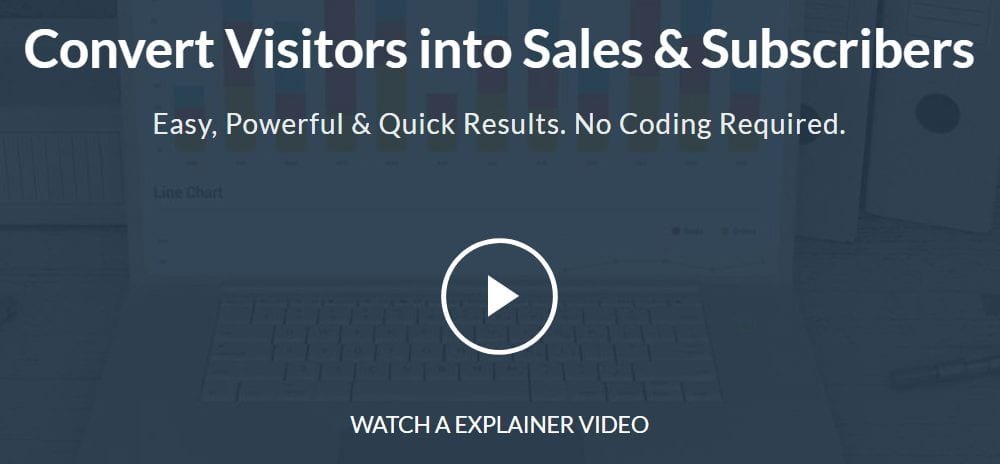 The ConvertPlus WordPress popup plugin is designed to be easy, powerful & quick results. And it really is that simple! With Convert Plus, you can create popups like any other plugins that I've discussed so far.
Here's a list just to make it clear:
Popups that covers the full screen (Welcome Gates)
Floating headers
Footer bars
Slide-in forms
Sticky boxes
If you're not good at creating your own popups, ConvertPlus will take care of that by providing you with 100+ templates. All you have to do is make modifications to the templates to whatever you want.
ConvertPlus is a product in the Envato market, and you can get yours now for just $24.00.
#6. Bloom
Bloom by Elegant Themes is a WordPress popup plugin designed specifically for email collection. So if you are trying to build your email list, Bloom is a great choice.
Here are different ways you can display your opt-in forms with Bloom:
Automatic fly-ins
Automatic popups
Below content forms
Widget area forms
Inline opt-in forms
and Required opt-in to unlock content
What I really like is the required opt-in to unlock content. Especially if you do a good enough job to hook your readers to read your content.
That way, you can gain an email subscriber if they want to unlock certain sections of your content to continue reading.
Like other popup plugins, you can set how you want your popups to be triggered. And it works with 16 different email marketing platforms to allow you to build your email list.
Bloom also has 100s of templates for you to design your popups.
For Bloom, you can get annual access for $89.00 per year or lifetime access for only $249.00 one time. Personally, I would try it out for 30 days because they give you a money back guarantee.
In the end, if you decide to use this, I would highly recommend choosing lifetime access because that will save you a lot of money in the long run.
#7. Icegram
Icegram is a very popular WordPress plugin that comes packed with a lot of features. If you want to do more than just popups for your website, Icegram is for you.
I'm not a fan of installing multiple plugins for different features. Icegram solves that problem by having a ton of features packed into one plugin.
In addition to popups, you'll also get the following:
Messenger Slide-ins for Live Chat
Floating Action Bars
Toast Notifications
Tabs
Overlays
Inlines
Sidebars
Interstitials
Ribbons
Stickies
Badges
Click here to check out their full feature list with explanations. (This page also talks about advanced targeting options).
Icegram also integrates nicely with your email marketing platforms along with A/B testing, so you can test for best conversions.
#8. PopUp Domination
PopUp Domination is a software as a service (SaaS), which means you can manage your popups from their own interface rather than on WordPress itself.
Here are some notable features that PopUp Domination comes with:
Advanced targeting/Trigger options
Pre-built templates for you to customize
A/B testing for conversion with Analytics
Google Analytics for tracking your events
Multiple types of popups can be created
Personally, I really like how you can create different popups for different purposes. For example, you can use it to create popup forms, countdown timers, promotions, etc.
Right now, you can try PopUp Domination for 14 days with no contract. So if you decide that you don't like it, you can cancel your account at any time.
If by any chance, you decide to keep using PopUp Domination, there is a monthly recurring charge of $9.00 per month.
In Conclusion
Whether popups are worth it or not, that's up to you to decide. But if you are thinking about adding popups to your website, I recommend using my list as a reference.
As you can see, most WordPress popup plugins are very similar in terms of features. You just have to find the one that you like. Maybe it's an additional feature that others don't have or something as simple as the interface.
Hopefully, this was helpful! I do plan on adding more to this list as I explore other options out there. But these are by far the best ones I've seen and used.
Kind Regards,