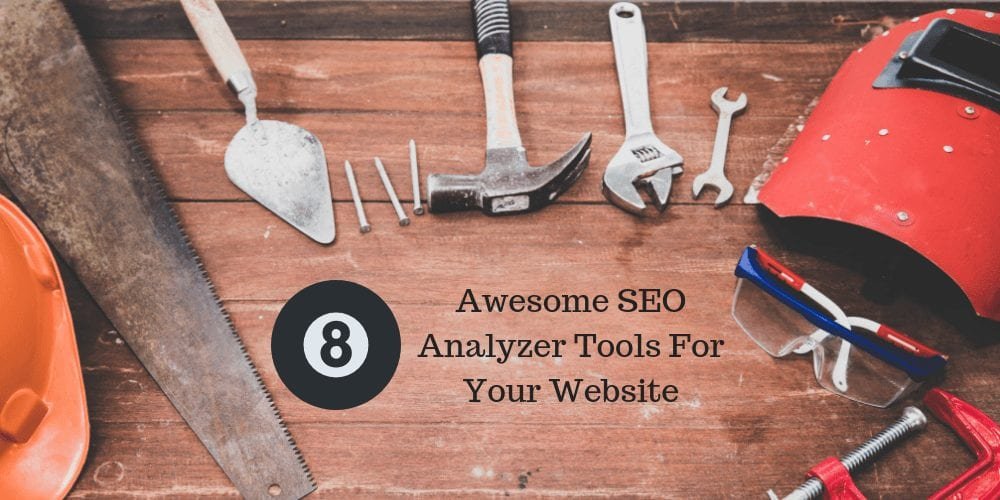 As a website owner, it is important that you are constantly analyzing your website. This will help you see the direction your website is heading. Are you progressing or are you taking a few steps backward?
Google offers what is known as Google Analytics which is great and a must-have tool for all website owners. However, it's not enough and I'm not saying that Google Analytics is a bad tool.
An example would be a carpenter with only a hammer. The hammer is not a bad tool. In fact, it's a great tool, but it can only do so much. You can't measure accurately without a tape measure or do a layout without a framing square.
What I'm implying is, you should try to get as many tools under your belt. So in the case of your website, it is recommended that you have as many tools as possible to get the best results.
In this article, I will provide you with 8 Awesome SEO Analyzer Tools For Your Website. Without further ado, let's get right into it! Keep in mind, you don't need every single one of them. Simply choose one that you feel best to meet your needs.
Note: For the tools recommended below. They are not affiliate links and I will not be earning a commission whether you decide to use them or not. And the tools are not in any particular order.
#1. SEOptimer
Seoptimer is a free online SEO analyzer that enables you to check any website for what I would consider an overall report of the following: SEO, Usability, Performance, Social, and Security.
It is extremely easy to understand because it clearly states the issues you have. That way you can focus on the issue to resolve it. It's like having a virus scanner on your computer to let you know exactly what kind of problems you are experiencing.
#2. SEM Rush
SEM Rush is a very popular tool in the internet marketing community. It basically provides you with a detailed and shortened version of Google Analytics.
Simply type in your website's URL and submit. It will provide you with lots of information which includes SEO health status, referrals, number of active backlinks, etc.
SEM Rush comes with both a free and a paid version. The paid version (comes in 4 different plans) includes domain & keyword analytics, traffic analytics, projects, reports, user management, etc. Click here to check out the full plan comparison.
#3. Link Research Tools
Link Research Tools is a link audit website that analyzes links that are connected to your website. It will also provide you with information to help you identify bad backlinks which can potentially hurt your search engine rankings.
In fact, bad backlinks are potentially one of the reasons why your rankings are not increasing. They do offer a 7-day trial for $77.00 to test things out.
Keep in mind, if you decide that you want to continue using this tool, the price ranges from $399.00 per month all the way up to $2,799.00 per month. Due to the cost, I don't recommend most people to use it. However if you can afford it, Link Research Tools can be a versatile tool to keep under your belt.
#4. Neil Patel SEO Analyzer
Neil Patel is a well-known SEO and internet marketing expert. In fact, if you look up internet marketing on Google, you'll find him sitting comfortably on the first page of the search result.
Neil Patel's online SEO Analyzer is very easy to use. Simply enter your website's URL and it will analyze it automatically. It is absolutely free to use and it will provide you with important information on how your website is doing in regards to SEO.
In addition, you can also compare your website against 3 other websites in your industry. This allows you to see where you stand and why your competition might be outranking you.
#5. Netpeak SEO Crawler
Netpeak SEO Crawler is an SEO tool that checks more than 40 different on-page SEO parameters. It's exactly what it states on their front page. You'll have your own personal SEO crawler to check for errors and analyze incoming and outgoing links.
In addition, you will also get notified if it finds any broken links as well as content duplication issues They also give you the option to download your report if you want to show it to experts.
If you want to see what it's all about it. They are offering a 14-day free trial. If you don't like it, simply cancel before the end trial date. Or save up to 40% (subject to change) and get full access for $14.00 a month or $117.60 per year.
#6. SEO Site Checkup
SEO Site Checkup is an easy on-site SEO analyzing tool that checks your website for SEO issues, backlinks, and rankings. The results it provides gives you a clear picture of how your website is doing.
Simply enter your website's URL and let the tool do its job. You can also compare up to 5 other competitors to see how you can improve your SEO efforts to outrank them.
They are currently offering a 14-day free trial in which you can cancel at any time. If you want to continue monitoring your website, they do have a plan starting at $24.95 per month.
#7. Serpstat
Serpstat is another SEO tool that allows you to scale your online business venture by tracking your results for search terms only. Simply put your website URL, keyword, or link in the text box and click search for results.
This tool will provide you with information on how well your keywords are doing. Also, it will provide you with ideas on how to make it work better for your website.
What I really like is that it provides you with your competitors and where they stand with a visual chart. Currently, you can try out this tool for free, but with limited access. Click here to get a complete overview of their paid plans.
#8. SE Ranking
Unlike most other SEO analyzer tool, SE Ranking requires you to sign up first before you can use it. It's not as convenient as most of the ones I mentioned above.
However, it does offer 100% accuracy on your website's ranking status. So this might be worth it if you want total perfection. SE Ranking provides you with a realistic website audit plus other tools to help you reach the top of the SEO World.
Currently, you can join a free trial which allows you to check your website's search engine rankings, keywords, and access to their marketing plan. Click here to check out their premium version which comes with a ton of features.
It's Like Going To See A Doctor
Don't worry, it's not as scary as going to see a doctor. But using tools to analyze your website for SEO is pretty much like going to see a doctor.
You want to ensure that your website is in top-notch shape because you're not the only one out there. In fact, you're probably competing with 100s of thousands of other websites on the internet.
Content is king, yes, but taking the time to analyze and improve your website is even more important than ever. Why short yourself when there are ways to improve. You just have to take action.
The tools above are just a list that I find helpful and you are free to continue your search. I do recommend to check out all of the above and find the one that best fits your need and your budget. Some of these tools can cost a pretty penny.
If you have any additional questions, comments, or concerns. Please leave a message down below and I will try best to help you out!
Kind Regards,