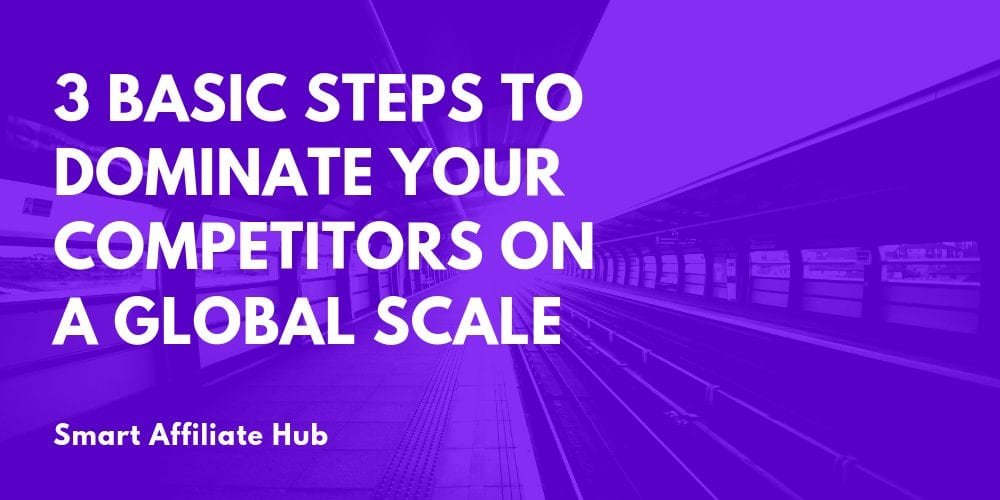 How is your business doing in your local region? The beauty of running an online business is being able to scale it globally. However, just because your niche is dominating a certain region, doesn't mean it is elsewhere.
For example, in the United States, people have more buying power which means you can be sure to make a nice chunk of change. But what about going into another market, another location where money is an issue? Trying to enter such a market can prove to be somewhat difficult.
That's why if you want to dominate your competitors on a global scale, you'll have to take the time to do proper research before diving your head in the water. By doing research, you can expect the worst and be prepared to handle it. This can be something as simple as language! It's true, not everyone in the world speaks or understands English.
So before you decide to expand your business and have it go global, here are a few things that you should do before getting started. Without further ado, let's get right on to it!
Step #1. Do Your Research
I know this one is kind of obvious, but this is your first step before expanding globally. Like fighting a war, the more you know about your enemy, the better you can prepare for the fight.
By doing research, you can anticipate unforeseen events that can happen. It also helps to set up a dedicated notepad just for your research. That way you can list down potential issues that you may come across during your global expansion. It's still going to carry a risk, but it's much riskier if you go in knowing absolutely nothing.
For example, what is the primary language used? Who are your competitors? What is the demand for your product(s)? These are all great questions to ask yourself because these will help you prepare for the worst.
Step #2. Use Google Trends For Market Research
Google Trends is a great tool for expanding your business because it provides information on the list of countries and keywords that your niche is currently doing well in.
By filtering down selecting specific countries, Google Trends will narrow down the search results to States and Cities. If the country is not in huge demand for your niche then you might want to look elsewhere.
There's no point in spending time, money, and resources to try to enter a market only to fail. And this is exactly why Google Trends is so important. It's not 100% accurate, but it gives you an idea of whether your niche will do well or not.
Step #3. Offer Translation Options
Since not everyone speaks English, it is a good idea to offer translation options. Personally, I recommend outsourcing someone with the native tongue. I've used Google translation before and the translation can be totally off depending on the language you are translating to.
Also, if you have multiple versions of the same page, you should tell Google about it! The purpose is so your translated content won't get indexed for people in the United States. It requires a bit more work, but it's totally worth it for global expansion.
Most countries don't have enough content. So if you can create great content, you would rank much quicker compared to ranking in the United States. Again, don't use the Google Translate.
Conclusion
And that concludes my 3 basic steps to dominate your competitors on a global scale. First, conduct research, so you are familiar with your targeted country. Next, use Google Trends to determine the demand of what you have to offer in your business.
And lastly, if you do want to enter that market, having translations available is crucial. You can potentially lose a customer simply because they couldn't understand what your blog post is about.
If you have any additional questions, please leave a comment down below and I will try my best to help you out!
Kind Regards,